A Life in Books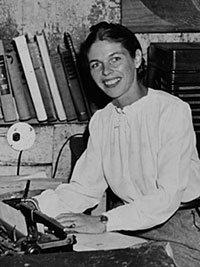 Virginia Lee Burton was born in Newton Center, Massachusetts, on August 30, 1909. Growing up in California, she participated in amateur theater, studied ballet, and planned to become a professional dancer. Her career as a dancer ended early when she moved back to Massachusetts to take care of her father, but the pull of the stage lingered in her consciousness and would later reemerge in her last book, Life Story, featured in this display.
In Boston, she worked as an illustrator for the Boston Transcript and and as an art teacher. She also took art classes at the Boston Museum School, where she met her husband, the acclaimed sculptor, George Demetrios. They married in 1931 and had two sons, Aristides and Michael. The growing family moved to Folly Cove, Massachusetts, a small community in the northernmost part of Gloucester that provided Burton with the inspiration for many of her beloved children's books, including The Little House (1942), for which she won the Caldecott Medal.
In Folly Cove, Burton was a founding member of the Folly Cove Designers, a group of friends who took courses on design and created elaborate printed textiles that were exhibited as artwork and also sold in department stores. Her first attempt at writing a children's book,
Jonnifer Lint
, about a piece of lint, was rejected by thirteen publishers. However, in 1937,
Choo Choo: The Story of a Little Engine Who Ran Away
was published, followed soon by the perennial favorite
Mike Mulligan and His Steam Shovel
(1939). Other well-known books by Burton include
Calico, the Wonder Horse
(1941),
Katy and the Big Snow
(1943), and
Maybelle, the Cable Car
(1952).